DH and I don't make a big huge deal out of Stuff as possible for Christmas, since we pretty much have everything we want/need anyway, and if we don't we get it for ourselves if we really want it. My family has gotten so darn big (parents, five kids plus spouses, eleven grandkids) that the siblings decided no presents for each other or for nieces/nephews. I do still bake a pound cake loaf for every family, though!
Still, there's a few Christmas presents hanging around.
DH wanted nunchucks, now that he's a black belt. So I got him nunchucks, plus a couple of small tool kits (ratcheting screwdriver/bits and socket driver/sockets) and some new t-shirts. He surprised me with the pair of boots I had been drooling over for a year in the National Geographic catalog but wouldn't buy for myself because they cost way too much (mine are black, though):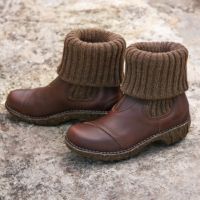 My son got me a copy of Masters: Glass Beads, full of eye candy to drool over. He'd "wrapped" our presents each in a bag from Patagonia, which will be just as valued? as the presents themselves (DH promptly stored his nunchucks in his). Then my parents gave me a clamp-on magnifying lamp, which I hadn't realized I wanted/NEEDED until the Cynthia Rutledge class a couple of weeks ago, when it was clear that my eyes aren't able to see seed beads as well as I'd like! So I'm quite happy.